Research Team of Department of Mechanical Engineering has received 2 international awards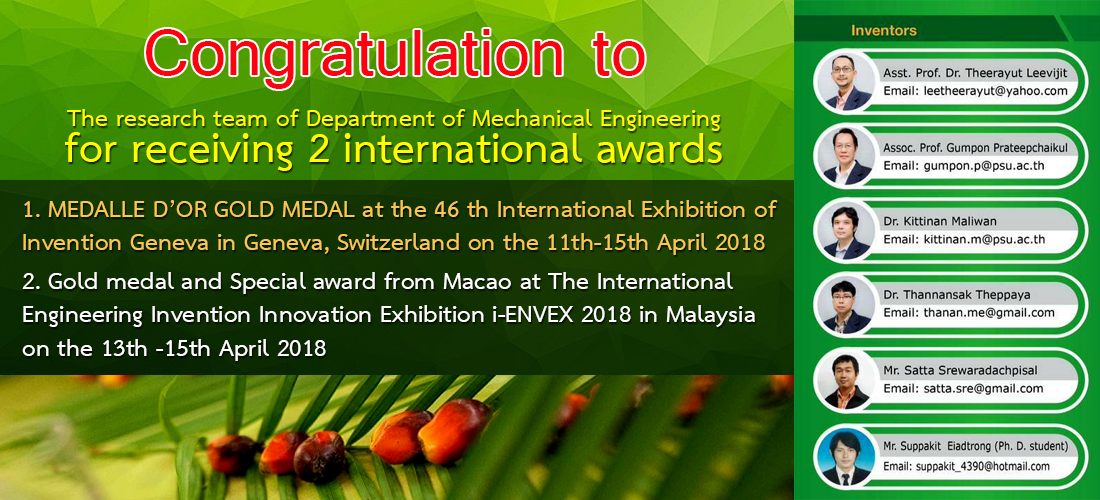 Congratulation to the research team of Department of Mechanical Engineering for receiving 2 international awards from the International Exhibition of Invention Geneva Research Projects "Diesohol fuels blended with palm fatty acid distillate as an emulsifier and a diesel extender"
1. MEDALLE D'OR GOLD MEDAL at the 46 th International Exhibition of Invention Geneva in Geneva, Switzerland on the 11th-15th April 2018
2. Gold medal and Special award from Macao at The International Engineering Invention Innovation Exhibition i-ENVEX 2018 in Malaysia on the 13th -15th April 2018
Inventors include
1. Asst. Prof. Dr. Theerayut Leevijit
2. Assoc. Prof. Gumpon Prateepchaikul
3. Dr. Kittinan Maliwan
4. Dr. Thanansak Theppaya
5. Mr. Satta Srewaradachpisal
6. Mr. Suppakit Eiadtrong (Ph.D.student)
Also thanks to The Science Park, Princess of Songkla University and Energy Technology Research Center for their support on this project.
Details